Alex T. Smith
When Alex T. Smith was a little boy, he wanted to be a chef, a rabbit or a children's book illustrator. Now, at the young age of 23, he has won awards for his art and has illustrated his first picture book, the acclaimed Eliot Jones, Midnight Superhero and his second book, Home, is published in January 2009. Home is the first book that Alex has written and illustrated.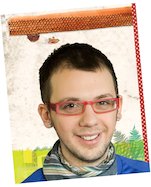 Whilst studying illustration at Coventry University, Alex won second prize in the Macmillan Prize for Children's Picture Book Illustration in 2006 and was highly commended for the same award in 2005. Eliot Jones, Midnight Superhero has been shortlisted for the Coventry Inspiration Book Award and Alex has been longlisted for the Greenaway Medal 2009, an amazing accolade for such a new and young writer!
Alex lives in York and enjoys walking his three dogs and making cakes.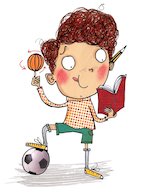 Here are some things that Alex likes to do in his spare time:
Watching films, especially French cinema and animated films
Cooking. He makes a mean apple pie!
Making small, hand-sewn felt toys
Looking after his pets and planning what other pets he will have when he has a bigger house!
Learning French
Looking in antique shops, vintage clothes shops and flea markets for treasures!
Keeping travel sketchbooks
Walking in the woods
Going to the theatre
Reading
Drinking redbush tea
He also likes people-watching, eavesdropping, looking out of the window, doodling whilst on the phone, talking and taking his dogs for a walk in the park and having a go on the swings if no one is looking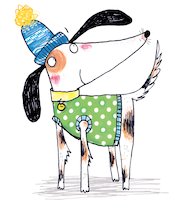 "I work under the constant and unwavering 'supervision' of two naughty chihuahuas and a slightly grumpy yorkshire terrier."