We're teaming up with Michael Rosen to find the best young storyteller!
Win the chance to publish your school's very own book.
This competition has closed. We will be contacting the winners in September. Don't worry if you missed out this time – we'll be launching another story-writing competition soon!
Do you teach some fantastic young storytellers? Do you think their words ought to be shared with the world? Well, we want to read them….and we're not the only ones! Michael Rosen is joining us in the search for the UK and Ireland's best young storyteller!
We Are Writers is a fantastic way to encourage and celebrate creative writing in your setting from Scholastic and offers children a unique opportunity to see their own writing published in a real book. This year, we're launching an exciting new competition to find story-telling stars.
Each term, we're teaming up with an author who will provide a story-starter or inspiration for children to submit their own piece of creative writing. If a pupil from your school is selected as our winner, you will receive 50 copies of your very own We Are Writers book worth £299, filled with your pupils' creative writing – and published completely for free!* Your school will also win £100 worth of free books for your library and the winning pupil will win £50 of books for themselves.
This term, bestselling author and past-Children's Laureate, Michael Rosen provides the inspiration to get those creative juices flowing and get your children writing.
I've turned traditional stories upside down with my new book, An Unexpected Twist, a retelling of Oliver Twist, and Bah! Humbug, a modern version of A Christmas Carol. I'd love for children to think about a short story or piece of creative writing with a twist. Surprise me with some really imaginative writing and I look forward to helping select the winner. Michael Rosen
You can find our Tale Twister worksheet along with lots of other great resources on the free resources page to help you get started. Any story or poem of up to 500 words can be submitted.  
Prizes to be won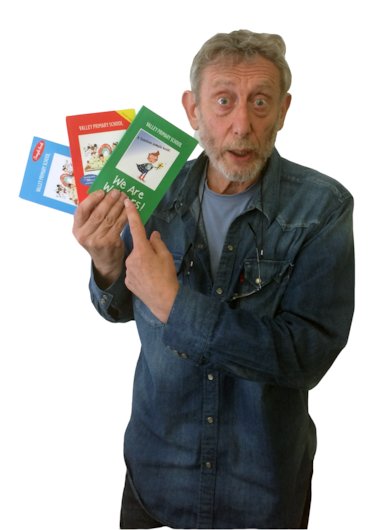 Each school term, we're going to reward the school of one young storyteller with the opportunity to publish their very own book – for free! If a pupil from your school wins the We Are Writers Competition, you will receive 50 free We Are Writers books, full of your pupils' writing!* The winning child will also receive:
£50 worth of free books
A certificate for you to award them
A signed book for them to cherish forever
The winning school will win £100 worth of free books too!
How to enter
You can enter the We Are Writers competition with any story or poem of up to 500 words. The deadline for us to receive your application this term is 30th June 2019. If you miss this, don't worry, there will be more chances to enter over the summer.
Ready to get writing? You can send your entries to us via email to sbfcompetitions@scholastic.co.uk or post them to us at:
We Are Writers competition
Scholastic Book Fairs
5th Floor Euston House
24 Eversholt Street
London
NW1 1DB


TERMS AND CONDITIONS
Please read these carefully. 1. No purchase necessary to enter the competition. 2. Competition open to children aged 0 – 16 in the UK and Ireland only and closed to employees of the Promoter or anyone else connected with the promotions. 3. Entries must be received by the dates listed above. 4. No cash alternative will be offered to prizes. 5. The Scholastic team will choose one winning entry per term from the competition. The decision of the Scholastic team is final and, due to the number of entries that will be received, no correspondence will be entered into. 6. Prizes may differ. 7. The winner will be notified of their prize within two months of the closing date. 8. Details of the winning entry will be listed on this page two months after the competition close date. 9. No responsibility will be taken for entries that are damaged, illegible, incomplete, lost or delayed in the post or otherwise fail to reach the Promoter by the closing date. Entries will not be returned to entrants. 10. The Promoter reserves the right to display entries in promotional material, social media channels and on the website. 11. The Promoter will only use entrants' personal information in connection with this competition. All personal details will be destroyed once the winners are announced. 12. You will receive 50 We Are Writers books for free. Any additional books requested will be purchasable for £5.99. 13. Receiving a completed We Are Writers book requires the school to complete the We Are Writers book through the normal process at www.wearewriters.com. We take no responsibility for not sending a We Are Writers book as a prize if the school does not complete the book and inform us of its completion. 14. It is a condition of entry that all entrants agree to be bound by these rules and are asked to retain a copy of these rules for any future reference. The Promoter is Scholastic, Floor 5, Euston House, 24 Eversholt Street, London, NW1 1DB.
---